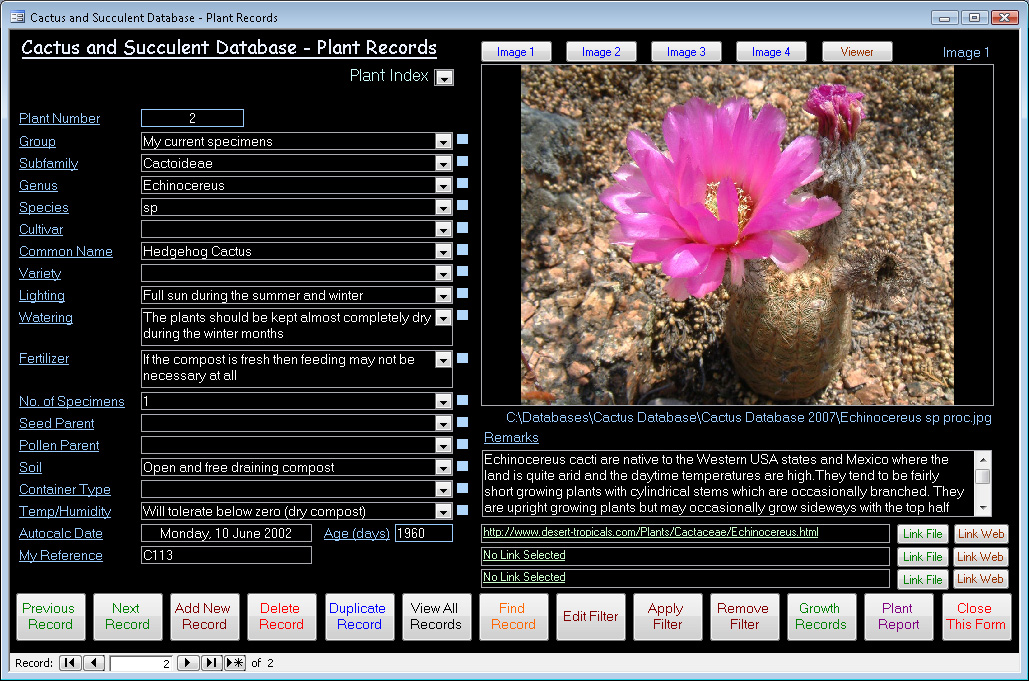 Cactus and Succulent Management Database
This program has had a major upgrade and has been replaced by a new version.
You may view the new version here. Trial version available.
---
Allows you to keep a record of your cactus and succulents and record their growth including images in one simple to use package.
View your collection records quickly and easily.
Professional Edition to suit the needs of the most avid collector.
TESTED 100 % COMPATIBLE WITH ANY WINDOWS XP VISTA Windows 7/8/10.

Very easy to use for those with little computer experience
GROWTH RECORDS FOR EACH PLANT
REPORTS WITH IMAGES FOR PLANT AND GROWTH RECORDS
CONTACTS AND SUPPLIERS INFO RECORDS TOO !
IMPORT YOUR EXISTING RECORDS FROM THE PREVIOUS VERSION
ADD WEBLINKS OF YOUR CHOICE TO EACH RECORD
Based on Microsoft Access which ensures future compatability
Fields, Forms and Reports example records as shown in the screenshots below.

Forms and reports can be viewed on screen or printed.

A find record facility and filters can also be used to filter on one or more fields.

User Editable Weblinks/Filelinks. 3 per plant record and 1 per growth record.

A must for serious cactus and succulent collectors.

Easy to use for those with little computer experience.

CDROM Suitable for Windows 2000 SP3 or later including Windows XP WindowsVista and Windows 7/8/10.

 

Not suitable for Windows 8 RT.

Screen size 1024 x 768.

International buyers strictly Paypal ONLY.
Price $27.00AUD
Cheque, money order or bank deposit payment available to Australian purchasers.
Please email me at sales@databasebase.com.au for details.
PAYPAL PURCHASE BUTTONS