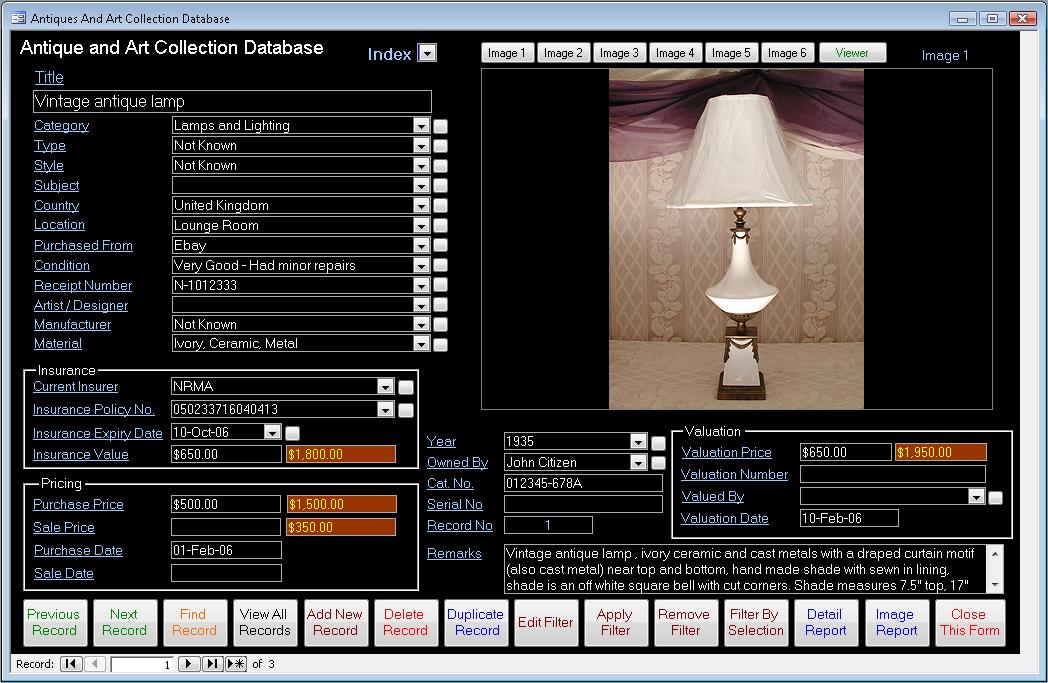 Antiques and Art Database Software CDROM
Allows you to keep a record of your antiques and art collection in one simple to use package.
View your collection records quickly and easily.
TESTED 100 % COMPATIBLE WITH ANY WINDOWS XP VISTA Windows 7/8/10
Very easy to use for those with little computer experience
Based on Microsoft Access which ensures future compatability
Program is supplied with Microsoft Access Runtime for users who do not have Microsoft Access
After payment is received the program can me made available by download so you may commence using it before you receive the CD by post. Please advise if you want the download after you purchase the CD.
COMBINED POSTAGE – Only pay postage for the first item any extra are post free
Fields and example records as shown in the screenshots below.
Detail and image reports which can be viewed on screen or printed.
Track values and insurance details.
A find record facility and filters can also be used to filter on one or more fields.
Contacts and suppliers database included.
A must for serious art and antique collectors.
Easy to use for those with little computer experience.
CDROM Suitable for Windows 2000 SP3 or later including Windows XP, Windows Vista and Windows 7/8/10.
Screen size 1024 x 768.
Price $22.00AUD
Cheque, money order or bank deposit payment available to Australian purchasers.
Please email me at sales@databasebase.com.au for details.
PAYPAL PURCHASE BUTTONS