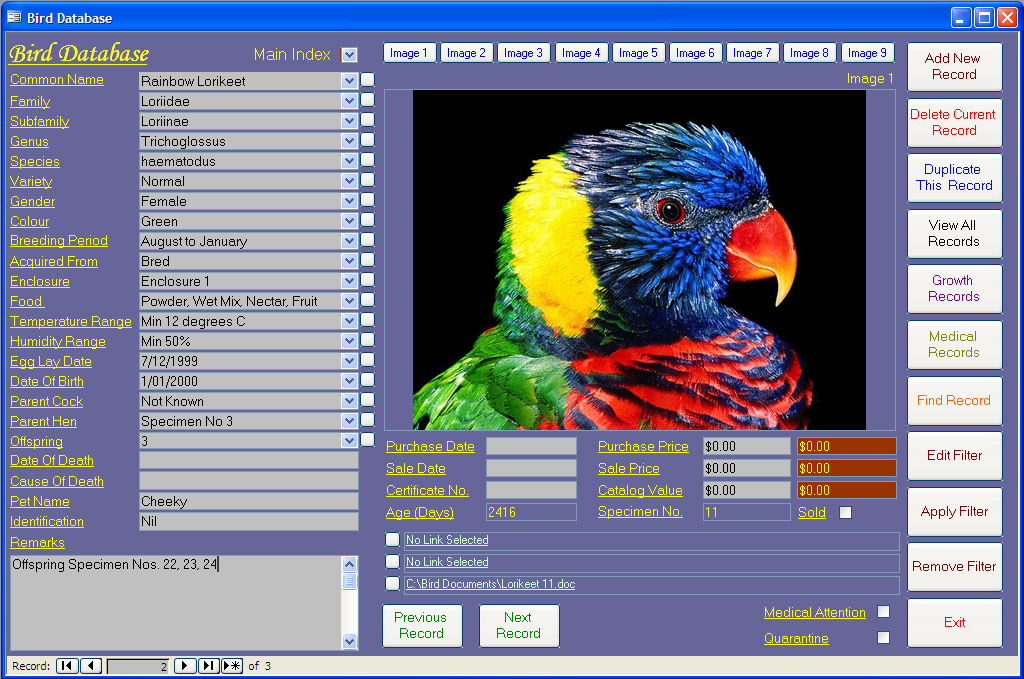 Bird Collector and Breeder Database Software
---
TESTED 100 % COMPATIBLE WITH ANY WINDOWS XP VISTA or WINDOWS 7/8/10
Easy to use for those with little computer experience 
Suitable for any type of collection of birds. Track the growth and medical history of each specimen including images.
Can use JPG BMP and GIF image files.

Large images can be used. Image Frame is 510 x 340.

Simple image insertion. Just click once on the imagefield and select your file.

Database capacity is a staggering half million records, enough to cater for even the largest collection.

Allows you to keep a record of your birds in one very simple to use package.

Records have large image fields (510 x 340 pixels) which show good detail.

There are 9 image fields per specimen record allowing the insertion of your images and easy viewing.

Index on each form for fast record retrieval.

Printing of records is also available.

Enter duplicate records easily using duplicate record – creates a copy of current record – which saves data entry time where multiple same records are entered.

Main Form fields for Common Name, Family, Subfamily, Genus, Species, Variety, Gender, Colour, Breeding Period, Acquired From, Enclosure, Food, Temperature Range, Humidity Range, Egg Lay Date, Date Of Birth, Parent Cock, Parent Hen, Offspring, Date of Death, Cause of Death, Pet Name, Identification, Remarks, Purchase Date, Purchase Price, Sale Date, Sale Price, Catalog Value, Certificate Number, Specimen Number, Age (Auto calculated from Date of Birth) and checkboxes for Medical Attention, Quarantine and Sold.

There are also 3 editable links with each specimen record that you can link to any file on your PC such as Word documents, Video files etc.

Growth record form fields for 3 images, Specimen Number, Date, Age. Growth Record Number and Remarks. Subforms for Selected Specimen and Growth Records for currently selected specimen.

Medical record form fields for 3 images, Specimen Number, Date, Condition, Treatment, Medication, Medical Record Number and Remarks. Subforms for Selected Specimen and Medical Records for currently selected specimen.

Control buttons for View All Records, Previous Record, Next Record, Find Record, Edit Filter, Apply Filter, Remove Filter, Add New Record, Delete Current Record, Duplicate Record, Growth Records, Medical Records and Exit. Various other menu controls such as Print or Filter By Selection are also available.

There are also running totals for the all specimens for Purchase Price, Sale Price and Catalog Value.

Drop down menus can be edited easily by the user, allowing easy access to your commonly used data.. See attached image for a suggested method of data entry.

A find record facility and filters can also be used to filter on one or more fields.

A must for keeping track of your birds.

Suitable for Windows 2000 SP3 or later including Windows XP Windows Vista and Windows 7/8/10. 

Not suitable for Windows 8 RT.
Price $27.00AUD
Cheque, money order or bank deposit payment available to Australian purchasers.
Please email me at sales@databasebase.com.au for details.
PAYPAL PURCHASE BUTTONS