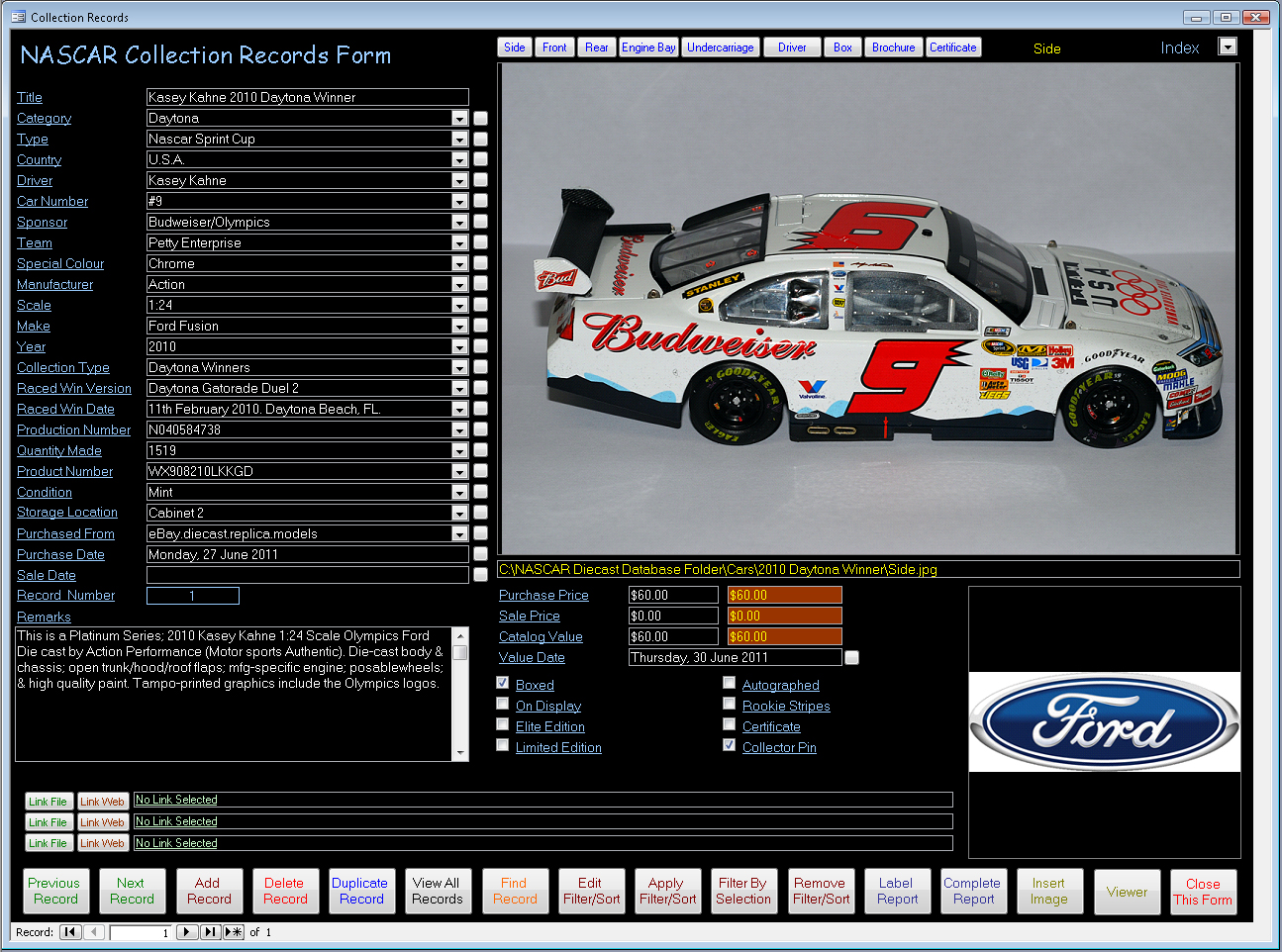 NASCAR Diecast Model Collector Database Professional
---
Suitable for any NASCAR car collection
View your collection records quickly and easily.
Suitable for any manufacturer and any scale.
TESTED 100 % COMPATIBLE WITH ANY WINDOWS XP VISTA or WINDOWS 7/8/10
Very easy to use for those with little computer experience
REPORTS WITH IMAGES INCLUDING LABELS
CONTACTS AND SUPPLIERS FORM WITH REPORTS TOO !
ADD WEBLINKS OF YOUR CHOICE TO EACH RECORD
Professional Edition to suit the needs of the most avid collector.
Allows you to keep a record of your NASCAR diecast collection including images in one simple to use package.
Two separate different size main forms to suit small or large monitors.
Based on Microsoft Access which ensures future compatibility.
Program is supplied on CDROM. No other software is required.
After payment is received the program can me made available by download so you may commence using it before you receive the CD by post. Please advise if you want the download after you purchase the CD.
COMBINED POSTAGE – Only pay postage for the first item any extra are post free
Fields, Forms and Reports example records as shown in the screenshots below
Forms and reports can be viewed on screen or printed. Forms viewable at 2 different sizes onscreen, and reports will print to A4 pages.
Powerful filtering and filtered indexes to make temporary subsets of records
User editable drop down field data allows you to enter your commonly used data for later selection when creating collection records.
A find record facility and filters can also be used to filter form or reports on one or more fields
Reports –  A complete report showing all images and data, and a label report to print a label including minimized images to keep with the actual model.
User Editable Weblinks/Filelinks. 3 per record. Usable to link and launch any file on your PC such as Video, Audio, Document or any file type. Also can be used to enter any web address including any video such as You Tube pages to link video on the web
A viewer function which displays the image much larger using the default windows viewer (see image below)
Export your record data to Excel files (.xls), text files (.txt .csv .tab .asc), html, rtf, xml or to another Access database (.mdb .mde)
Program can use jpg files for inserted images. Just one click and select your file for image insertion.
A must for serious NASCAR diecast collectors.
Easy to use for those with little computer experience.
CDROM Suitable for Windows 2000 SP3 or later including any Windows XP, any Windows Vista and any Windows 7/8/10.
Not suitable for Windows 8 RT.
Screen sizes (program can use the large or the small forms): Large Form 1280 x 1024 minimum. Small Form 1024 x 768 minimum. Can use a smaller monitor but scrolling is required.
International buyers strictly Paypal ONLY.
Instructions included on the CD.
Price $29.95AUD
Cheque, money order or bank deposit payment available to Australian purchasers.
Please email me at sales@databasebase.com.au for details.
PAYPAL PURCHASE BUTTONS