Militaria Collection Image Management Database Software
Allows you to keep a record of your militaria collection in one simple to use package.
View your collection records quickly and easily.
TESTED 100 % COMPATIBLE WITH ANY WINDOWS XP VISTA Windows 7/8/10
Very easy to use for those with little computer experience
Based on Microsoft Access which ensures future compatability
Program is supplied with Microsoft Access Runtime for users who do not have Microsoft Access
Fields and example records as shown in the screenshots below
A find record facility and filters can also be used to filter on one or more fields.
Fields for Title, Category, Country, Type, Service, Location, Material, Manufacturer, Era,  Certification, Purchased From, Condition, Catalog Name, Catalog Number, Purchase Date, Sale Date, Service Person, Rank, Certificate Number, Year Of Issue, Purchase Price, Sale Price, Catalog Value, Receipt Number, Reference and Remarks.
A must for serious militaria collectors.
Easy to use for those with little computer experience.
CDROM Suitable for Windows 2000 SP3 or later including Windows XP, Windows Vista and Windows 7/8/10.
Screen size 1024 x 768.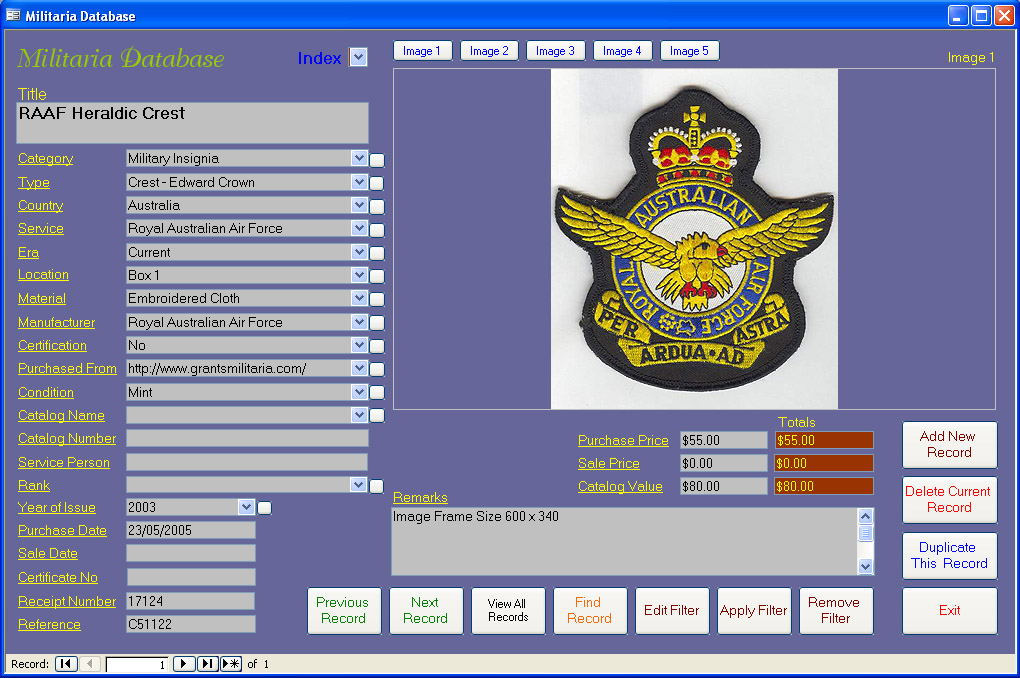 Price $22.00AUD
Cheque, money order or bank deposit payment available to Australian purchasers.
Please email me at sales@databasebase.com.au for details.
PAYPAL PURCHASE BUTTONS