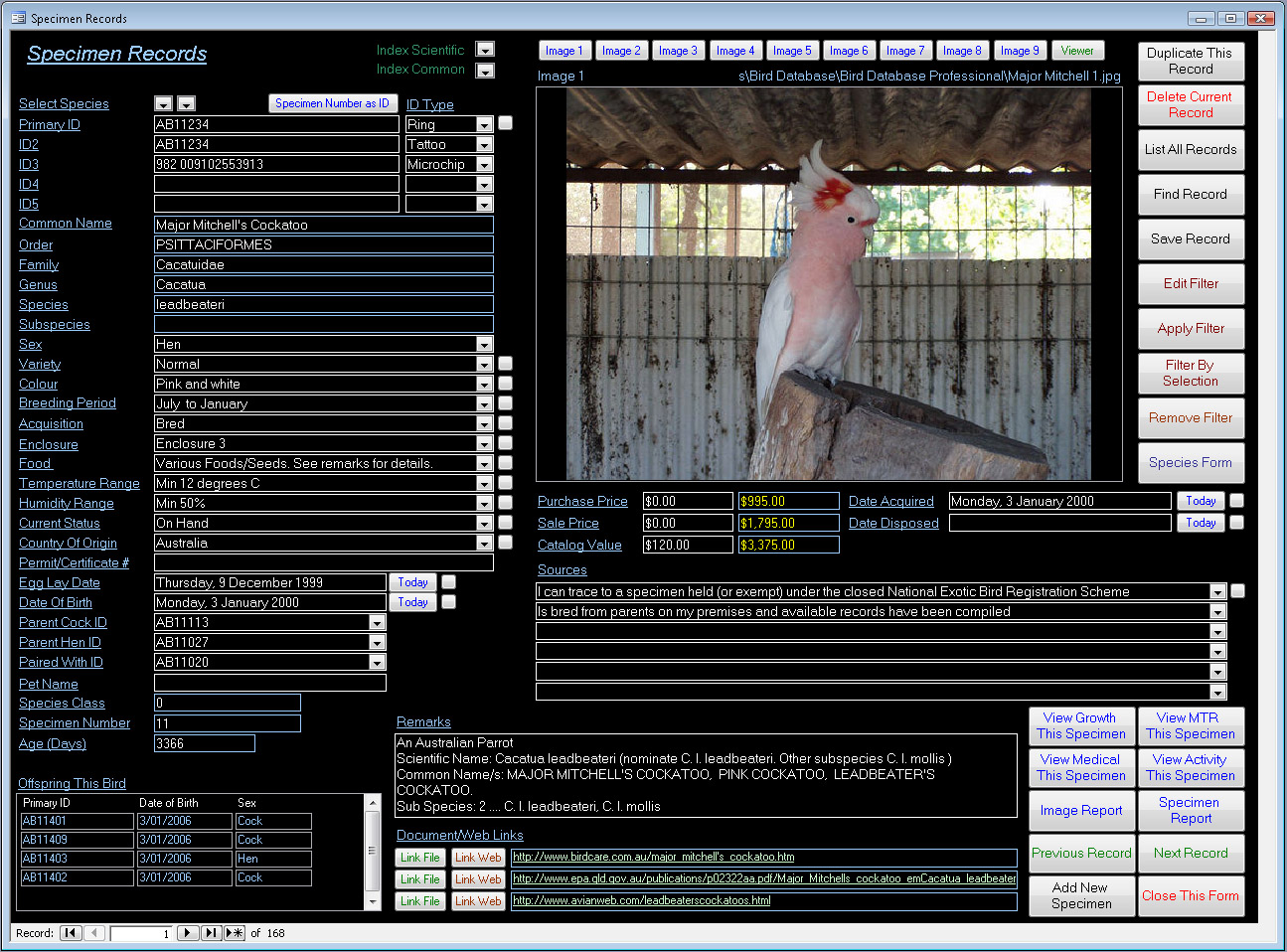 Bird Collector and Breeder Database Software Professional

 Version
---
Print Government Activity and MTR Records Quickly and Easily
 Based on the record keeping system recently developed by the Australian Government (in consultation with the Exotic Birdkeepers Advisory Group).
Create pre-filled Movement Transaction Records and Activity Records ready to be signed, based on the system adopted by the Australian Government for exotic birds.
Suitable for any collection of exotic or native birds.
Track each specimen with detailed specimen record data, growth and medical history of each specimen including images.

Activity records have automated specimen counts per species and total specimens. Activity and MTR records automatically reference data from specimen records, all you do is select the specimen. 

Dual Record Indexes ordered by scientific or common name.

Selectable and editable species reference lists including weblinks and image fields to create your own species references.

Contacts and Suppliers records including email addresses and URLs.

Activity and Movement reports from this program may be used in lieu of Australian Government issued forms for class 2 and 3 species.

Ideal to help compile government numbered Activity and Movement forms for class 1 species.

Many other features

.

 See Screenshots Below.
TESTED 100 % COMPATIBLE WITH ANY WINDOWS XP VISTA or Windows 7/8/10
Easy to use for those with little computer experience.
Any questions please contact me.
Suitable for Windows 2000 SP3 or later including any Windows 7/8/10, XP and Vista.
Not suitable for Windows 8 RT.
Screen size 1280 x 1024.
Price $49.95AUD
Cheque, money order or bank deposit payment available to Australian purchasers.
Please email me at sales@databasebase.com.au for details.
PAYPAL PURCHASE BUTTONS